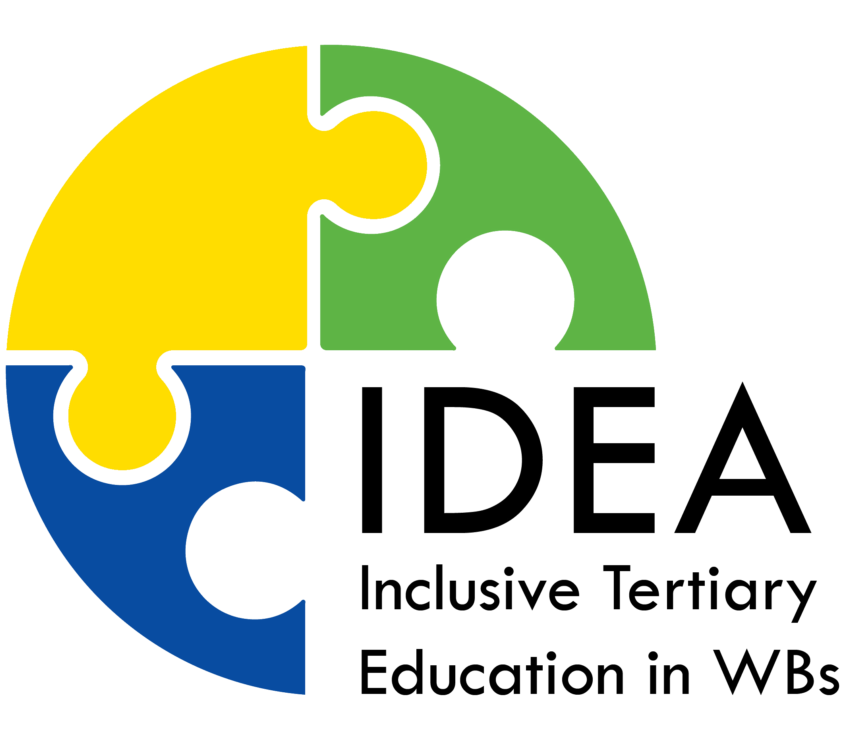 IDEA PROJECT
Inclusive Tertiary Education in West Balkans/ IDEA;
618859-EPP-1-2020-1-AL-EPPKA2-CBHE-JP (2021-2024)
About as:
IDEA aims at addressing one of the key challenges that Europe and the Balkan region, in particular, will be facing until the end of the 2020s and to support the European policy agenda for equity and social inclusion in HE.
Aim
Project's overall aim is to improve access, establish inclusive education learning conditions and develop employment opportunities for SwD and students with learning difficulties in the Western Balkans through building capacities of the Student Service Units, faculty, administration, students and governing bodies of the partner countries' collaborating HEIs and their respective Ministries of Education, developing modern inclusion practices, assistive technologies and networking, which will also benefit disadvantaged groups in lower educational levels (primary and secondary education).
The Inclusive Tertiary Education in the Western Balkans (IDEA) project proposal is innovative, in the sense that it introduces new ideas and methods related to the inclusion, accessibility of SwD in HE in the Western Balkans. In spite of legal provisions in Albania, Kosovo and Montenegro regarding the accessibility, all-inclusiveness and diversification obligations of HEIs towards SwD, as has been demonstrated at the start of this section, the reality leaves much to be desired.
In addition, a number of services to be developed with the help of technology are also innovative, as they are to be applied for the first time in the Albanian language, thereby benefitting not only SwD, but also pupils with disabilities. These are digital services providing accessible learning materials and services for the purpose of removing barriers against print disabilities. These services support the cycle of conversion and supply of academic textbooks in Albanian to various accessible digital formats according to the type of disability.
Specific objectives
In order to improve its equity of access overall aim, the project shall work to accomplish the following objectives:
Create and/or enhance institutional support structures and protocols to enable access to Higher Education and foster the consolidation of a social integration and accessibility culture within partner universities.
Enhance the managerial and administrative staff capacities of partner HEIs dealing with and implementing inclusive education practices.
Equip the Disability Support Units with effective and relevant assistive technology.
Increase external relations cooperation to improve Higher Education access and employment of disabled students.
Increase public and students' awareness and understanding on the importance of inclusive education within HE for the society.
The partner institutions of the project are:
Polis University
AleksandërMoisiu-Durrës University
Medical University of Tirana
University of Shkodra "LuigjGurakuqi"
University Lady of Good Council
Epoka University
University of Prishtina "Hasan Prishtina"
International Business College, Mitrovica
Universum College
DonjaGorica University
National University of Athens
Masaryk University
Limerick University
Albanian Foundation for the Rights of Persons with Disabilities (ADRF)
Association of Paraplegic and Paralyzed Children in Kosovo (HANDYKOS)
Association of Youth with Disabilities in Montenegro (AYDM)
List of Associated Partners
Ministry of Education, Youth and Sports – Albania
Ministry of Education, Science and Technology – Kosovo
Ministry of Education and Sports – Montenegro